Still no connection...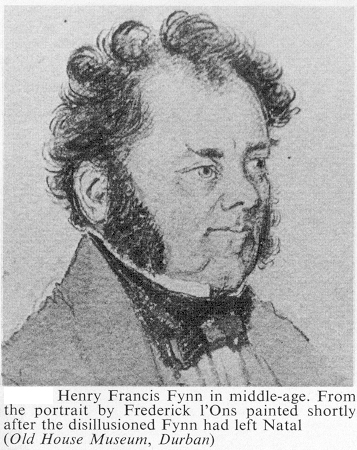 My father, his uncle, John Fynn, and his Aunt "Cissy" all had the memory that the family used to assert that they were related to a Henry Francis Fynn "a trader in South Africa". Aunt "Cissy" used to speak, darkly, of "hidden Treasure" in South Africa and that her step father, John Fynn, used to receive regular payments from that country. We have read various books:
| | |
| --- | --- |
| | "The Washing of the Spears" - Donald R. Morris |
| | "Shaka Zulu" - E.A. Ritter |
| | "The Zulu Kings" - Brian Roberts |
| | "Shaka's Children" - Stephen Taylor |
All liberally refer to Henry Francis Fynn or to be more accurate to all three Henry Francis Fynns!
Taking averages we find that Henry Francis Fynn I was born in Ireland (?Donegal) in about 1779. He later married an Elizabeth Capstick (Bn: c.1781 in Wales) and they had a number of children:
| | |
| --- | --- |
| | Henry Francis Fynn II, born 29.03.1803 in London, educated at Christ's Hospital before going out to S. Africa to join his father and mother who by then ran a hotel there. He became a trader and also became involved with the Zulu tribe; opening up Natal. He was not fairly dealt with and withdrew from Natal in about 1852. He died 20.09.1861. He had a son, Henry Francis Fynn III. |
| | Eliza Fynn born 15.09.1805 in Worcester, England (coincidentally near where my parents now live!). She later married a Donald McDonald in SA and they had 10 children. |
| | William Fynn |
| | Frank Fynn |
| | Matilda Fynn |
There appear to be many other members of the dynasty of the first HFF in South Africa including one who married Vundlase, ruler of the iziNkumbe. They had a child Charlie Fynn who succeeded as ruler of that tribe in 1882.
Henry Francis Fynn III became a Magistrate and also involved himself in trying to stop the Zulu War before it started.
We cannot find any connection yet with the Cambridge Fynns but they speak of relatives in the north of Ireland who were visited by my Grandfather and grandmother.
Go to Family Trees to download the Henry Francis Fynn's tree. Use the browser 'Back' arrow to return.
In August 2002 we received an email from a descendant of Henry Francis Fynn which we have attached: Click on: Email from HFF Descendant
or use one of the buttons on the left.
Page last updated 29th May 2010